Rainwater Collection Made Easy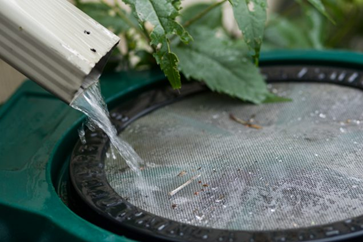 A basic rainwater collection system collects rainfall and channels it into a container for storage. Rainwater collection tanks are an excellent for harvesting and storing runoff water from rooftops, parks, roads, open ground, etc.
The benefits of rainwater collection systems are vast. From reducing reliance on potable water, solving isolated flooding in backyards, reducing water bills for gardening, or simply wanting non-chlorinated and untreated water for yard use, rainwater collection is integral. Most homes already have gutters and downspouts, making a rainwater collection system easy to implement.
Building a rainwater collection system is simple and typically involves a rain barrel that collects any runoff water. Water used for gardens or yard irrigation does not need to be potable and can be used as-is out of the barrel. If the water needs to be potable, stainless steel corrugated tanks are ideal since they are held outside, won't fade, and are resistant to bacterial growth.
Connecting a rain barrel to a downspout does involve some planning but usually includes a simple tube. Some rain gardens are equipped with a filtration system and trenching as well.
Homeowners are increasingly gravitating toward sustainable living, and those equipped with rainwater collection systems meet that mark. If you are exploring the idea of selling your house in the near future, consider the value of your rainwater collection system and how well it was installed. Low-maintenance designs are best.
If desired, contact a professional to install an underground system that is hidden from view.
_____________________
Wolf Survival Gear is a hub for your prepping and survival needs. We are your trusted resource for concerned families, avid hunters, or serious preppers. Make us your one-stop-shop and prepare now, before you need it later.
Written by the digital marketing team at Creative Programs & Systems: https://www.cpsmi.com/